Brent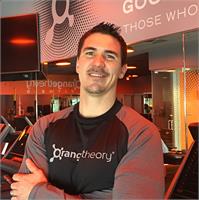 WHAT DO YOU BURN FOR?
Helping people get the most out of their workout each and every time whether I am taking class or coaching. I truly love helping people live happier healthier lives!
WHAT'S YOUR GUILTY PLEASURE?
Definitely craft beer! Living in Grand Rapids, Beer City USA it is tough not to love craft beer.
WHAT'S YOUR FAVORITE OTF EXERCISE?
That's tough because I like so many. I am going to have to say rowing, I didn't use to like it but over the years it has grown on me. Knowing that rowing uses 80% of the muscles in your body is pretty awesome, not many other exercises out there can hit that many muscle groups at one time.
Brent instructs the following:
60 Minute Orange Theory Workout




The longest workout at OTF. Typical workout will be 40 minutes of treadmill intervals and 40 minutes of floor blocks including weight room and rowers. Think Muscle Endurance and your highest calorie burn at OTF!